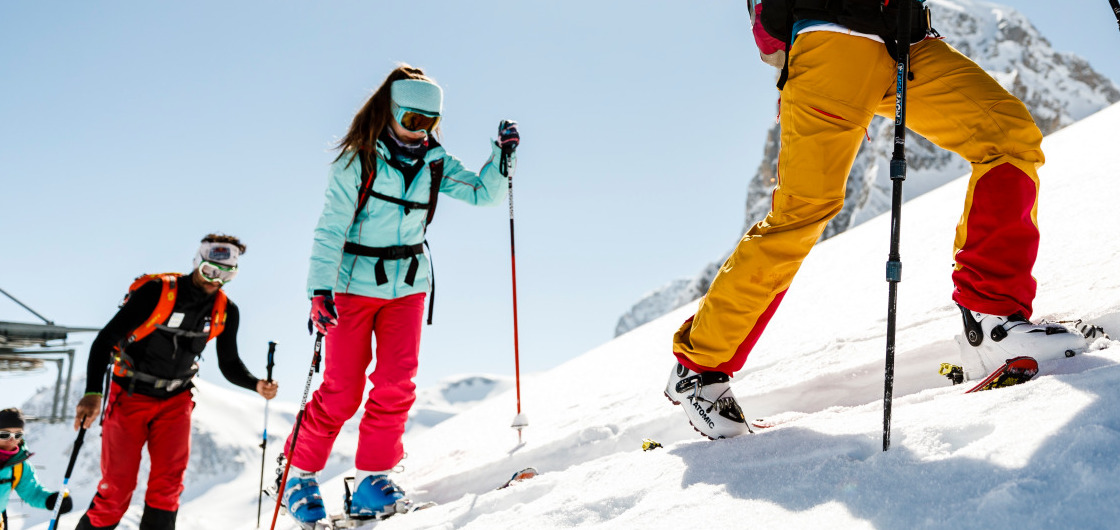 Ski touring, a good exercise on every level !
You have certainly not missed it, if you want to go up... you will have to use your legs strenght. Never mind, this is probably the best year to take touring skis out!

Another way to ski, which will makes you (re)discover skiing and see the mountain differently. A bit more effort on the way up, but a way more sensations on the way down. Forget the cliche about ski touring : you don't need rope or ice axes in the bag, the reality is much more accessible than you might think.
Here is a little article to convince and help you to take out the skins and enjoy ski touring in Tignes!
THE BENEFITS OF SKI TOURING

Regardless of your level of practice and type of skiing, ski touring is a very virtuous activity.
A gateway to a quieter and wilder mountain, this is the perfect opportunity to take a deep breath of fresh air, recharge your batteries and enjoy the view, more necessary than ever, don't you think ?
Whether you are braking your own trail or following our opened routes, one thing is certain, it will warm you up and boost your cardio! A good exercise, where everyone is free to work at his or her own intensity. The most important thing is to live the unforgettable sensations and a unique riding experience!

You are free to tailor your ski touring day : why not head up in the morning to enjoy a nice picnic break with a breathtaking view or reach a refuge to share a meal or even spend a night, in a friendly atmosphere.
Ski touring is also the perfect opportunity to meet up with friends, family, or mountain enthusiasts for a day of freedom, friendship and enjoy the silence of the mountains.
A complete activity that deserves a fondue, when the evening comes!

Find your method depending on your objectives
SKI climbing
The most classic form of ski touring, the one that immediately comes to mind. For you,there is no way you will put your planks on groomed slopes, only the off-piste counts.
If you are seeking the unexplored path or hard to reach peaks, this is the method for you. If you want to push your limits even further, why not try the Tarentaise tour? A ski mountaineering journey discovering our unique and beautiful massif.
FITNESS skiing
It is the ideal practice for a runner or a trailer who finds themselves stumped once the trails are snow-covered. Indeed, it is difficult to put on your running shoes when one minute you are running and the next ice-skating...
The goal of fitness skiing is to boost cardio and burn calories. Well ... let's face it, a climb might be a bit limited to eliminate the tartiflette from yesterday evening.

This practice is a mix between ski touring and downhill skiing. The route up mainly on off-piste trails when the resort is still asleep. The perfect opportunity to make your own mark in the light of the rising sun... Show and sensations guaranteed! Once at the top, the descent will be quick by taking the tracks. However, be careful with the possible presence of piste-groomers if you ski early, being visible is essential!
The choice of material will therefore turn to thin and lightweight skis, just like your ski boots. The goal is to be quick on the way up and solid on the descent.
FREERANDO OR FREETOURING
You are looking for the thrill of sliding on fresh virgin snow, but you are not into walking for hours… You would rather opt for free touring.
You prefer a short approach walk, ideally using the ski lifts... well, at the risk of stating the obvious, that is not possible right now.
For this type of practice, lightweight equipment is not the most important factor. You will above all be looking for an efficient and safe ski on the way down.


THE KEYS TO START safely
BE ACCOMPANIED
In the mountains, you have to stay humble. Get rid of the idea of "let's go and we'll see how it goes". You cannot improvise outside the ski area, especially if you are a rookie in the high mountains.

To reduce the risks and explore the mountain peacefully, do not hesitate in taking an experienced and qualified professional with you. All the resort teams have been working hard to open new routes, so you can practice and discover ski mountaineering on secured paths.

Stéphane Rutard, high mountain guide in Tignes gives us his reasons for choosing a guide: "If you want to discover this wonderful mountain discipline, all the guides are here to assure your safety and share with you all their knowledge about the mountains, so you can see them in a different light.

GET ADVICE
Even if you are a beginner to ski touring, you might already be familiar with skiing. However, beware downhill skis and touring skis are very different! To be sure not to go in the wrong direction, which could lead to unsuitable equipment, get professional advice. You will find in Tignes a multitude of rental shops with staff ready to find THE pair of skis for you.
Olivier Duch, owner of Duch sport shop in Tignes advises: "There are different types of skis for ski touring, from the very light made for skiers who want to go fast uphill, to those that are heavier for climbing but safer and easier to ski when coming down. We have to take the time to speak with the skier in order to understand exactly what kind of ski will fit their style.".
If touring skis are different to alpine ones, then how to dress is also different. "You have to keep in mind that you're going to be very warm when going up, but when you reach the top it's colder. So always have a backpack with more layers inside to put on when it's time to go down. And don't forget to drink! It will avoid picking up small injuries due to dehydration" says Olivier.

Have the full equipment
Frederic Bonnevie, director of the Tignes piste service, warns us about safety and the correct behaviour to adopt. "You should keep in mind that we are already at 2100m in the resort, so we are already in a high mountain environment, which can be risky. If you are beginners, stay on the marked slopes, they are secured and supervised by the piste security patrol."
Due to the closure of the ski lifts, the entire piste service has responded to offer you safe areas. "We had to adapt to offer a high-quality service that allows everyone to enjoy it according to their level. However, for those who wish to evolve out of these secured spaces, you do so under your own responsibility and in unsecured areas. It is therefore vital to be equipped with these three essential items: a transceiver, shovel and probe, so you can begin the rescue effort before the piste security patrol arrives".

"Going out ski touring cannot be improvised. The evening before check the weather and especially the avalanche risk estimation that you can find on the Tignes.net website and the mobile phone app, or on the website of Meteo France" add Stéphane Rutard.
The secret advice of the guide to end : before you go, make sure you have saved the phone number of the piste security : 04.79.06.32.00. Put it on the top of your contact list, so you can find it very quickly !