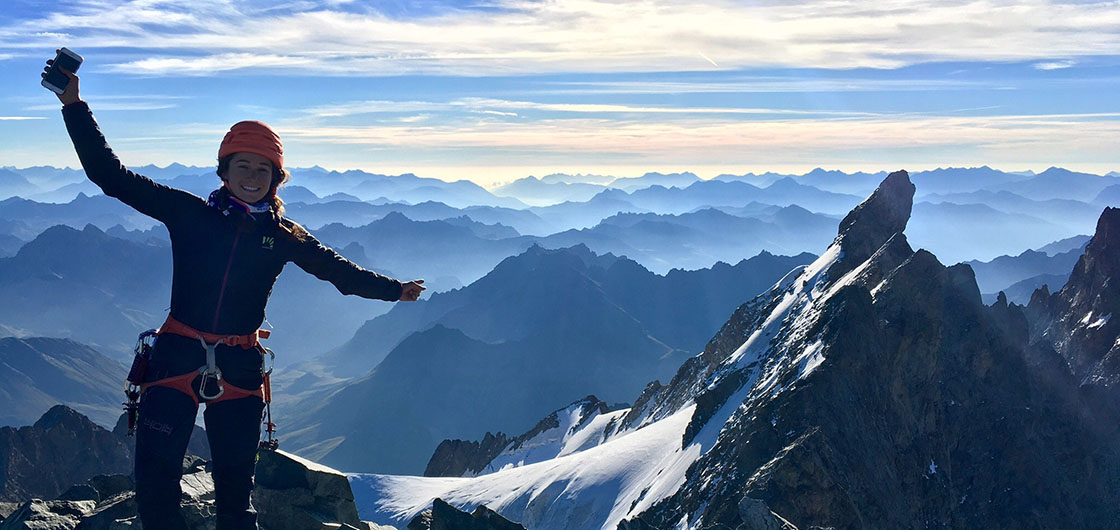 Get ready for your ski mountaineering season with Adèle Milloz
Hours of training and a good dose of talent: this is the magic formula that has allowed Adèle Milloz from Tignes to make a success of it in the demanding world of ski mountaineering. We had a chat with this awesome woman!
How do you organise your physical training throughout the year?
If you are aiming to hit peak form for a key moment during the year, there's no secret: you have to start working for it well in advance. For a project in January for example, training starts in September, 4 to 5 months beforehand, not at the last minute a couple of weeks before the event.
For me, training starts at the beginning of the summer so that I can be on form throughout the winter season (from December to April). From June to November I get the miles in with quiet long-distance climbs in the mountains to develop my stamina. Then from the end of November until my first race, I add specific sessions to my training (working on speed, practising putting my skins on or taking them off, attaching my skis to my pack etc.) in order to get back into "race mode".
To keep training interesting, which sports complement ski mountaineering?
In my view, the most complementary sports that anyone can do are: swimming, cycling (indoor, road or MTB), running etc. Basically, endurance sports in general!
Your first ski will be much easier and much more fun if you've been doing one of these endurance sports during the year or even for just a few months before getting back on skis. Your muscles and lungs will already be accustomed to physical exertion.
What are the rookie mistakes to avoid ?
One thing I've been told many, many times is that "recovery forms the basis of training". And I'm convinced it's true. Recovery is essential!
It all starts with healthy living: drinking lots of water and resting well.
Don't try to do too much at the beginning of the season: avoid sessions that are too long or big climbs to start with. Learn to listen to the little signals your body gives you (muscular pain, fatigue etc.) and accept that it's time to go home and come back the next day: things might be better then! Whatever happens, make sure you are enjoying yourself, otherwise you won't finish the season...
what kind of healthy living do you practise? And is this all the time or just during the season?
Healthy living is vital in the world of high-level sports. Nutrition is fundamental to performance, as is sleep! Both are necessary to achieve good results.
During the season I'm careful (no raclettes the night before a race!). But I don't deprive myself throughout the year either, I just have to be sensible!
What advice would you give others to help them stay motivated and not give up in the middle of the season ?
To stay motivated throughout my ski mountaineering season, I vary the sports I do, and I don't compete during the rest of the year (subject to exceptions).
I love all mountain sports. In the summer, I mostly go mountaineering or climbing, but I do a bit of everything so that I'm super-motivated when I get back on skis in the autumn!
The simplest things are the best: a sunset, snow glittering like gold, going out with family or friends, the beautiful mountains that surround us and give us their energy!
What advice would you give on safety ?
Essential equipment for ski mountaineering is: avalanche transceiver, shovel and probe. It's crucial! Also, don't forget to ask the ski patrollers for advice: are there any marked ski touring routes? Which areas are at risk of avalanche?
Other than that, take a little down jacket, gloves and hat with you, even on a beautiful sunny day. It doesn't take up much space after all…
And finally, because it's our fuel and we wouldn't get very far without it: food and water!
Follow ADÈLE MILLOZ
*Championne d'Europe de sprint en février 2018