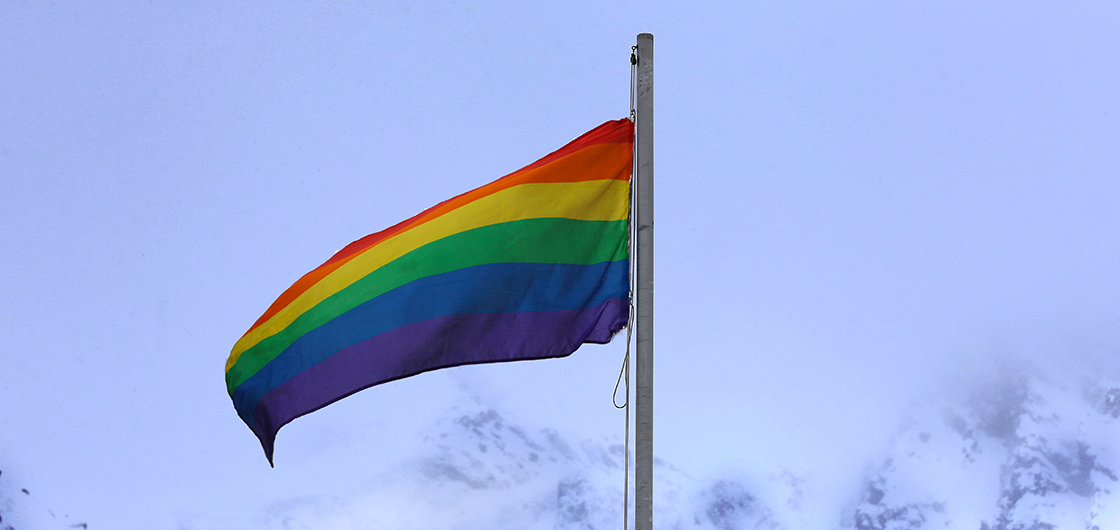 Tignes Pride: a celebration of diversity
Every winter, since March 2015, Tignes has welcomed a unique kind of Pride event. A conversation with Vincent Boileau-Autin, founder of Tignes Pride, honorary president of the "Fierté Montpellier – Tignes Pride" organisation and France's Interpride Director.
Tignes, 22nd March 2018
BY THE WAY, WHAT IS PRIDE?
We often forget but before it became a festive parade, Pride was first and foremost a time to celebrate and commemorate. During the 1960s, in New York, police regularly raided a bar frequented by transvestites, transsexuals and homosexuals. One day in 1969, they dared to tell them, "stop!" and took to the street to claim their right to live freely. 4 days of violent protests followed...
SO EVERY PRIDE MARCH IS A CELEBRATION OF THE BRAVERY OF THESE TRANVESTITES?
Precisely! The very first Pride March, which was organised in New York in 1970, was, first and foremost, a gathering to pay tribute to these transvestites who were brave enough to rise up and face their oppressors. It was only subsequently that Pride marches became associated with both a spirit of protest and festive atmosphere.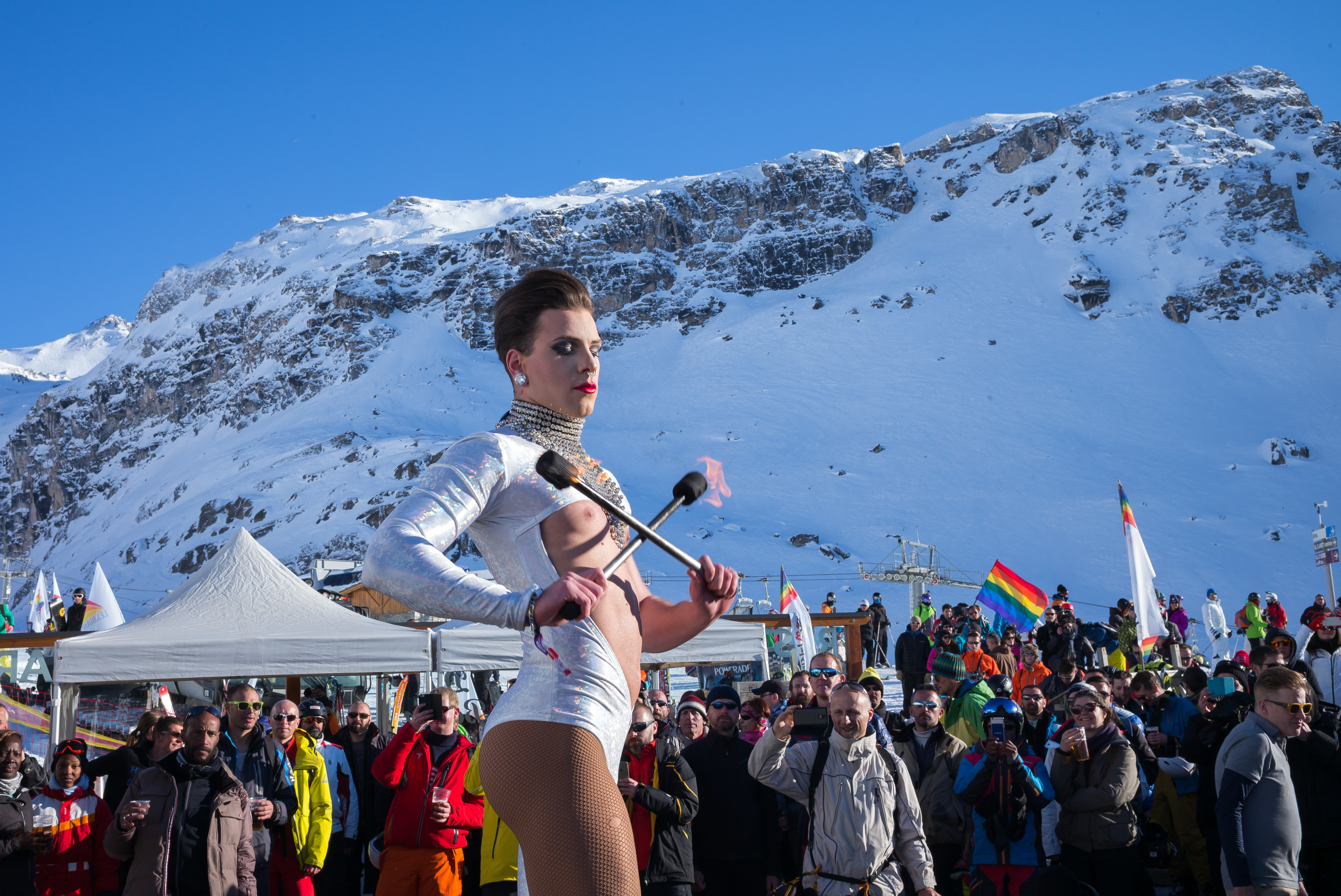 HOW DID "TIGNES PRIDE" COME ABOUT?
It was the result of a meeting! When my husband and I got married in 2013, Béatrice Leclercq, who managed the central reservations office at Tignes Tourist Information, made the trip to Montpellier. We didn't know each other but she was a staunch supporter of our cause and insisted on giving us an envelope which contained an invite to holiday in Tignes. We refused several times: we didn't want to take advantage of the media frenzy surrounding this first gay marriage, and neither did we want our picture used for publicity purposes. But Beatrice is very determined when she believes in something!
SO EVENTUALLY YOU WERE TEMPTED BY THE IDEA OF A HOLIDAY AT 2100 M?
Precisely! Beatrice put forward some convincing arguments and ended up persuading us; and we spent our first holidays in Tignes in March 2014. We immediately felt very much at ease and enjoyed a wonderful week. We met the Mayor, Jean-Christophe VITALE. Since 2008 the resort has hosted European Snow Pride, a week aimed at gay clientele. So we said to ourselves: "how about introducing a slightly more militant element to this rather commercial event? " The Mayor embraced the idea immediately.
WHAT MAKES TIGNES PRIDE SO UNIQUE?
It's the only Pride festival in the world that takes place in a ski resort, in the snow. Here, the usual "marchers" become skiers or snowboarders for the occasion! Although, of course, you don't need to know how to ski to take part: Pride is open to all. Another unique feature: the floats are replaced by snow groomers and snowmobiles, Something that really surprises newcomers!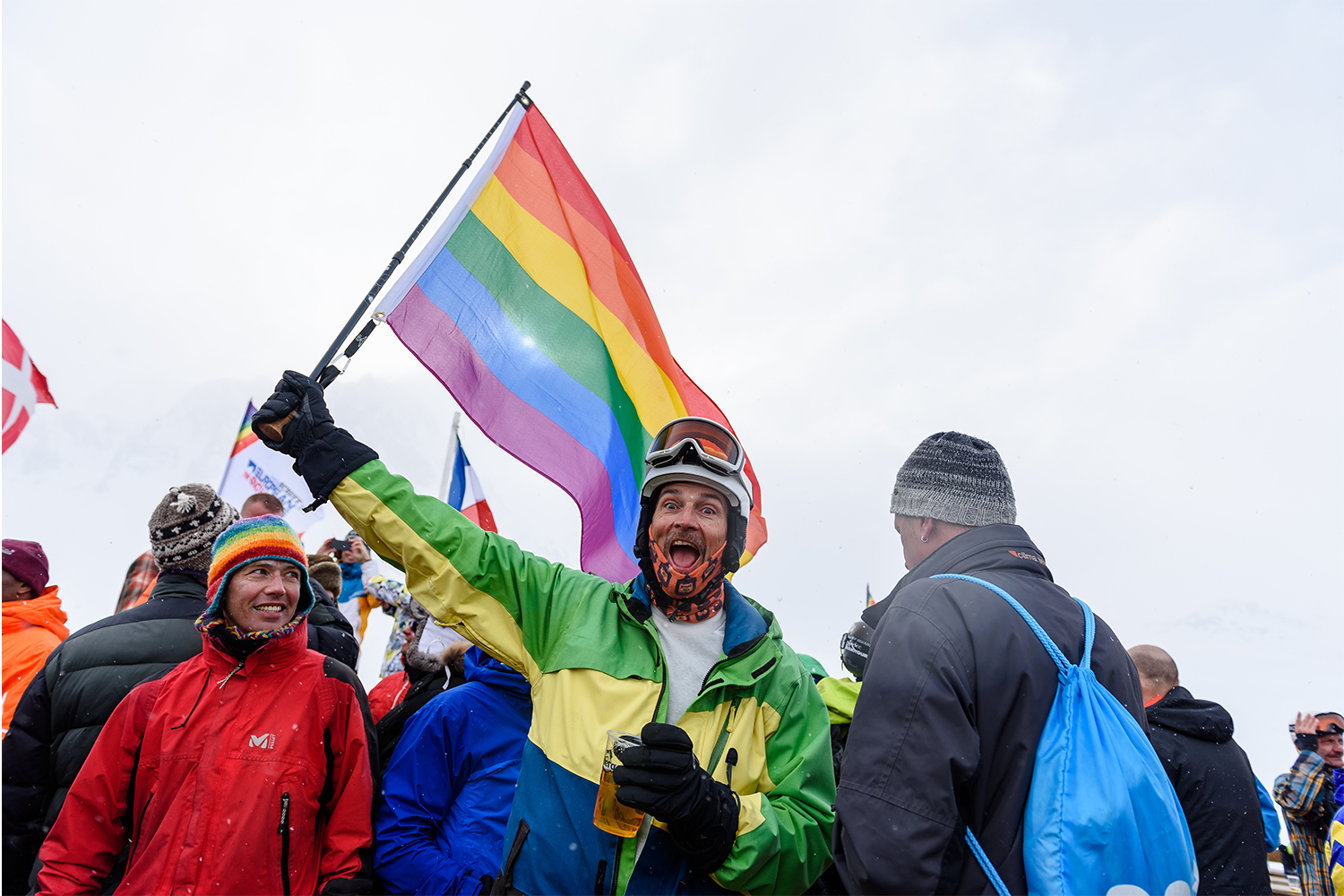 HOW HAS PRIDE CHANGED SINCE THE FIRST EVENT IN 2015?
For the moment at least, the number of participants has remained fairly constant: between 500 and 800 people, depending on the event. But that doesn't stop me from dreaming big: 1,000, 5,000, 10,000 participants? Pride has the potential to get bigger over time! The fact that we've changed the day for this 4th Pride event (Sunday instead of Tuesday) also gives residents from the valley the opportunity to join in as well, something that wasn't always possible during the week.
IF YOU WANTED TO GIVE ONE GOOD REASON WHY YOU SHOULD TAKE PART IN TIGNES PRIDE WHAT WOULD IT BE?
You feel completely at ease here, very much at home! People are on holiday, so they're relaxed; the scenery is magnificent and you can enjoy good, clean air. In short: it's a unique opportunity to promote humanist values while benefiting your mind and body!
I would like to take this opportunity to thank all the teams involved in the organisation and success of this Pride event: Tignes Townhall, the tourist office, shop owners etc. In 2014, our project was greeted with a mix of astonishment and reservation, but it only took one event to convince everyone. And we've met up every year subsequently, always with the same shared sense of delight. Great friendships are forged in Tignes.
A FINAL WORD?
Next year, we're expecting even more of you to come and enjoy this wonderful atmosphere, unique to Tignes Pride!